Warner Channel exibe hoje o People's Choice Awards
A Warner Channel estará com o tapete vermelho estendido para os fãs de série, música e cinema. O canal pago vai exibir hoje (8), à meia-noite (horário de Brasília), a 40ª edição do People's Choice Awards, uma das mais divertidas e democráticas premiações da industrial cultural americana.
A cerimônia será apresentada pelas estrelas do seriado 2 Broke Girls Kat Dannings e Beth Behrs, que também concorrem aos prêmios de Amigas Favoritas da TV e Comédia Favorita da TV Aberta.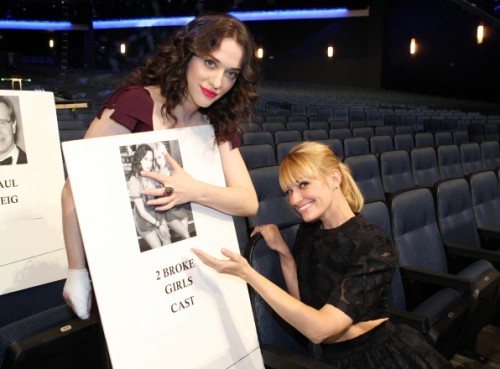 A festa também contará com a presença do trio ex-Disney Britney Spears, Christina Aguilera e Justin Timberlake, do rapper LL Cool J, as atrizes Sandra Bullock, Sarah Michele Gellar, Melissa McCarthy, Jessica Alma, as irmãs Zooey e Emily Deschanel, a modelo e apresentadora Heidi Klum e os atores Sean Hayes e Chris O'Donnell. Além de shows de Sara Bareilles, OneRepublic e Brad Paisley.
Com 40  anos, o PCA (como é conhecida a premiação) não parece perder o folego. São 15 categorias de cinema, 14 de música e 29 de televisão somando 58 prêmios no total. Os vencedores foram escolhidos pelo público por meio de um site na internet, em uma votação que durou cerca de um mês, entre novembro e dezembro do ano passado.
Entre as categorias, é possível identificar algumas inusitadas como bromance, quando se trata de relação amigável entre homens e gal pals quando a relação é amigável entre mulheres. A premiação desse ano também inovou e adicionou a categoria streaming para premiar séries como Arrested Development e House of Cards, que este ano estrearam na Netflix, que exibe sua programação por meio dessa tecnologia.
Confira quem são os indicados na categoria TV.
Comédia Favorita
2 Broke Girls
The Big Bang Theory
Glee
How I Met Your Mother
Modern Family
Ator de Comédia Favorito
Chris Colfer (Glee)
Darren Criss (Glee)
Jesse Tyler Ferguson (Modern Family)
Jim Parsons (The Big Bang Theory)
Neil Patrick Harris (How I Met Your Mother)
Atriz de Comédia Favorita
Jane Lynch (Glee)
Kaley Cuoco (The Big Bang Theory)
Lea Michele (Glee)
Melissa McCarthy
Zooey Deschanel (New Girl)
Drama Favorito
Chicago Fire
The Good Wife
Grey's Anatomy
Nashville
Parenthood
Ator de Drama Favorito
Jim Caviezel (Person of Interest)
Josh Charles (The Good Wife)
Kevin Bacon (The Following)
Mark Harmon (NCIS)
Patrick Dempsey (Grey's Anatomy)
Atriz de Drama Favorita
Julianna Margulies (The Good Wife)
Mariska Hargitay (Law & Order: SVU)
Pauley Perrette (NCIS)
Sandra Oh (Grey's Anatomy)
Stana Katic (Castle)
Ator Favorito em Série Nova
Andy Samberg (Brooklyn Nine-Nine)
Jonathan Rhys Meyers (Dracula)
Joseph Morgan (The Originals)
Michael J. Fox (The Michael J. Fox Show)
Robin Williams (The Crazy Ones)
Atriz Favorita em Série Nova
Allison Janney (Mom)
Anna Faris (Mom)
Ming-Na Wen (Agents of S.H.I.E.L.D.)
Rebel Wilson (Super Fun Night)
Sarah Michelle Gellar (The Crazy Ones)
Série Policial Favorito
Bones
Castle
Criminal Minds
The Mentalist
NCIS
Cometição de TV Favorita
America's Got Talent
Dancing with the Stars
MasterChef
The Voice
The X Factor
Comédia à Cabo Favorita
Awkward
Cougar Town
Hot in Cleveland
Melissa & Joey
Psych
Drama à Cabo Favorito
Downton Abbey
Pretty Little Liars
Sons of Anarchy
The Walking Dead
White Collar
Série Premium à Cabo Favorita
Californication
Game of Thrones
Girls
Homeland
True Blood
Atriz de TV à Cabo Favorita
Angie Harmon (Rizzoli & Isles)
Claire Danes (Homeland)
Courteney Cox (Cougar Town)
Lucy Hale (Pretty Little Liars)
Maggie Smith (Downton Abbey)
Anti-Herói Favorito
Dexter Morgan (Dexter)
Jaime Lannister (Game of Thrones)
Norman Bates (Bates Motel)
Rick Grimes (The Walking Dead)
Walter White (Breaking Bad)
Bromance Favorito
Blaine & Sam (Glee)
Ryan & Esposito (Castle)
Sam, Dean & Castiel (Supernatural)
Sheldon, Leonard, Howard & Raj (The Big Bang Theory)
Ted, Marshall & Barney (How I Met Your Mother)
Gal Pals Favorito
Caroline & Max (2 Broke Girls)
Lily & Robin (How I Met Your Mother)
Meredith & Cristina (Grey's Anatomy)
Penny, Bernadette & Amy (The Big Bang Theory)
Rachel & Santana (Glee)
Melhor Química na Tela Favorita
Castle & Beckett (Castle)
Damon & Elena (The Vampire Diaries)
Derek & Meredith (Grey's Anatomy)
Emma & Hook (Once Upon A Time)
Kurt & Blaine (Glee)
Seriado de Sci-Fi/Fantasia Favorito
Beauty and the Beast
Once Upon A Time
Supernatural
The Vampire Diaries
The Walking Dead
Ator de Sci-Fi/Fantasia Favorito
Andrew Lincoln (The Walking Dead)
Ian Somerhalder (The Vampire Diaries)
Jared Padalecki (Supernatural)
Jensen Ackles (Supernatural)
Stephen Amell (Arrow)
Atriz de Sci-Fi/Fantasia Favorita
Emilia Clarke (Game of Thrones)
Ginnifer Goodwin (Once Upon a Time)
Kristin Kruek (Beauty and the Beast)
Nina Dobrev (The Vampire Diaries)
Tatiana Maslany (Orphan Black)
Filme de TV ou Minissérie Favorito
American Horror Story
Behind the Candelabra
The Bible
Sharknado
The White Queen
Programa de TV Diário
Ellen DeGeneres
Kelly Ripa & Michael Strahan
Dr. Phil McGraw
Rachael Ray
Steve Harvey
Apresentador de Talk-Show Diário Favorito
Arsenio Hall
Bethenny Frankel
Jenny McCarthy
Queen Latifah
Ross Mathews
Apresentador de Talk-Show Noturno Favorito
Conan O'Brien
David Letterman
Jimmy Fallon
Jimmy Kimmel
Stephen Colbert
Séries por Streaming Favorita:
Arrested Development
Between Two Ferns with Zach Galifianakis
House of Cards
Losing It with John Stamos
Orange Is the New Black
Série que "Sentimos Falta" Favorita
30 Rock
Breaking Bad
Dexter
Fringe
The Office
Comédia Nova Favorita
Brooklyn Nine-Nine
The Crazy Ones
Dads
The Goldbergs
The Michael J. Fox Show
The Millers
Mom
Sean Saves the World
Super Fun Night
Trophy Wife
Drama Novo Favorito
Marvel's Agents of S.H.I.E.L.D.
Betrayal
The Blacklist
Dracula
Hostages
Once Upon a Time in Wonderland
The Originals
Reign
Sleepy Hollow
The Tomorrow People
E aí? Já garantiu o seu lugar na festa?
O People's Choice Awards será exibido originalmente nos Estados Unidos pelo canal CBS, com transmissão ao vivo no Brasil pela Warner.
Séries citadas: